Special, Add-on Workshop with …
Nathan Kranzo   ($50)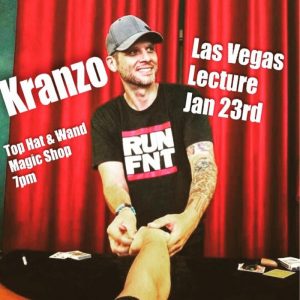 Thursday, January 24th, 2019
6pm – 8pm at …
Lane Community College (Building 19, Room 248)
This is a special one … shhh!
Nathan Kranzo is a close friend of mine (Kip Pascal), so it's not fair for me to comment on his magic. Still … he's awesome. And funny … in a quiet sort of way.
His subtle humor gets me every time.
And I look forward to learning a lot from our buddy. He's squeezing in this Eugene workshop between Las Vegas and Portland. Thanks, Nate.
The Last Lecture in 2018 was …
RUDY COBY…
Rudy Coby, also known as "Labman," is one of the most creative and bizarre comedic magician working today.
In the early 1990s, Coby appeared in several small theatrical live shows, and on broadcast television, where he delivered two unforgettable specials, "Rudy Coby: Coolest Magician on Earth," and "Rudy Coby: Ridiculously Dangerous." He is known for delivering eclectic and original comedic performances, of which stage magic plays a large part. He also works closely with rock musician and film director Marilyn Manson.
In the mid-1990s, Coby and his troupe of illusionist comrades performed in the Gem Theatre in downtown Detroit for an unprecedented thirteen weeks, thanks to his impressive cult following, and overwhelmingly positive local media support.
After a hiatus of 14 years, Coby returned to performing in 2009, including a well-received twelve-week run at the Galaxy Theater at Valleyfair, a theme park in Minneapolis. In 2012, he performed on the YouTube episode of America's Got Talent during its seventh season, but did not advance to the semifinals.
Currently a resident of Las Vegas, and member of the Magic Castle in Los Angeles, Rudy now joins the Can-Am Conjuring Lecture Series, as a finale to our 2018 season.
Jay Frasier
Directions to the Lecture
Out 30th Avenue to LCC (Lane Community College, Building #19, Room 248)
Or 1-5 to the 30th Avenue Exit.
Kip
P.S. Email me for any changes that you'd like to see on this page … or anywhere else on this site. I'll help, if I can … and want to. Kidding … sort of.