The Eugene Mysticians  was co-founded in 1962 by the innovative magician, Jerry Andrus (1918 – 2007). =>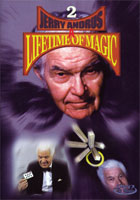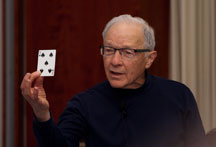 <= Ray Hyman has also been on the magic scene in Eugene since 1962 and is a co-founder of the club, as well. He continues to oversee the smooth operation and behind-the-scenes preparations for the club's continued success.
More than 50 years later, this club has become a fixture for Eugene and surrounding magicians.
We (and hopefully you) promote positive magic in the community … with almost no rules or regulations. We'd rather do magic than have administrative meetings, wouldn't you agree?
Enjoy the Magic, Now …
Monthly Mysticians Meetings — Get together and share magic with fellow magicians and magic enthusiasts. The Mysticians typically meet the 3rd Wednesday of the month at the Market of Choice (Upstairs) at 29th and Willamette St., in Eugene.
World-Class Magic Lectures (5 Times a Year) — We host the best lectures on the planet, no kidding! Come learn from the best.
Yearly Magic Auction — This is a fundraiser, to help make the lectures more affordable to our members. Whether you buy or sell (or both), you're helping to support the magic community. And this really is the place where magicians have purchased magic worth $50 for a buck ($1). Tricks, gimmicks, props, books, tapes, and DVDs.