Ray here,
I have included the complete PDF file (as an attachment) of Roberto Giobbi's Introduction to Card Magic.
Giobbi is the pre-eminent teacher of card magic (his 5 volume set  Card College has been hailed by the top magicians as the best and most complete  and best course in card magic ever.
Much of the material in this E-book is based on updated material from Card College. This ebook includes illustrations and several videos.
Although it is an "introduction" it covers the basics that every card magician, beginner or professional, should. In addition the basic sleights, Giobbi covers such details as how to remove the cards from the case, how to hold the deck, etc. He also provides excellent card tricks for each move that he teaches: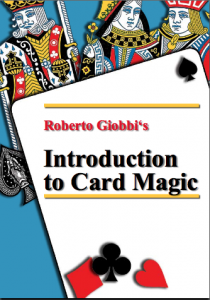 Giobbi's Introduction to Card Magic
We have our new member, Danny Kranitz, to thank for introducing me to this excellent manuscript.
The amazing thing is that Giobbi is offering this carefully prepared manuscript for free. He does suggest that for those who can afford it, and who appreciate his effort, that they make a donation. The IBM is offering this book on their website for its members.
We can offer it for the Mysticians and those who visit our website.
I just talked with Jay Frasier and we should hopefully have determined the venue for the Samelson lecture on Friday. I will keep you [all] posted.